Main Content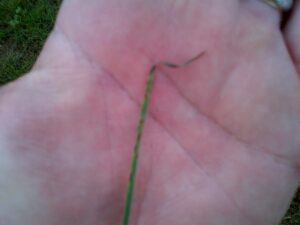 Many are planting new turf areas or re-seeding damaged areas using perennial ryegrass. Perennial ryegrass has the advantage of a fast establishment rate; a full turf cover can develop within 4 weeks.
However, you need to be aware that gray leaf spot disease can devastate new seedings of perennial ryegrass. This disease is currently very active.
Several hours of wetness and high humidty at temperatures above 68 degrees F strongly favor this disease. Gray leaf spot begins as small, gray to brown leaf spots that develop into oblong, dark gray-brown lessons. Damaged leaves will appear wilted and off-color (see image).
One approach to minimizing this disease is to seed with varieties that have good tolerance to gray leaf spot. Dasher 3, Manhattan 5 GLR, Palmer IV, Palmer V, All*Star 3, Defender, Derby Extreme, Fiesta 4, Palmer GLS, IG Squared, Panther GLS, SR 4600, Protege GLR, Paragon GLR, and Soprano are examples of older varieties with good tolerance. See the 2005-2009 NTEP data for more gray leaf spot tolerant varieties of perennial ryegrass.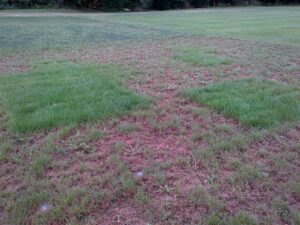 Data from 2011 indicates that some newer varieties including SR 4650, Pangea GLR, Octane, Bonneville, Pizzazz 2 GLR, and Sideways also have good tolerance to gray leaf spot disease.
See the 2011 NTEP report for more details on gray leaf spot disease susceptibility of newer varieties. More data should be available in 2012-2013.
Additional information on managing this disease can be found in FS 1048, Integrated Control of Gray Leaf Spot on Perennial Ryegrass.