Main Content
Hot weather in early July brought on some severe summer patch (root disease) symptoms in hard fescue. This disease on fine fescues hasn't been as thoroughly studied as it has been on other grasses.  So recommendations are based on knowledge learned in Kentucky bluegrass (Poa pratensis) and annual bluegrass (Poa annua) turfs. We are establishing plots this summer and fall to learn more about this disease on hard fescue.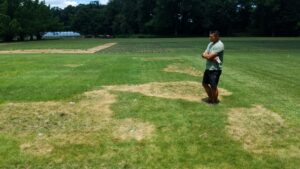 Fine fescues are better adapted to dry and infertile soils. Summer performance of fine fescue will generally be better in moderate to light shade than full sun.
To limit damage from summer patch on fine fescues, do not apply more than 2 lbs. of N per 1,000 sq. ft. per year. An acidifying form of N such as ammonium sulfate is thought to be the best choice when fertilizing fine fescues affected by summer patch. Caution is needed when irrigation fine fescue turf, especially on heavy (loamy) soils. Summer patch disease tends to be more severe on soil that retains water. Irrigation should be applied in a manner that moistens the soil after some time of drying but does not keep the soil excessively wet for many days. Mow fine fescue turf no lower than 2.5 to 3 inches and stop mowing when the turf shows symptoms of heat and drought stress in the summer. Fine fescue turf grows more slowly than other cool-season turfgrasses especially when air temperatures approach and exceed 90 °F.
See Dr. Bruce Clarke's PowerPoint slides for more details on summer patch disease.