Main Content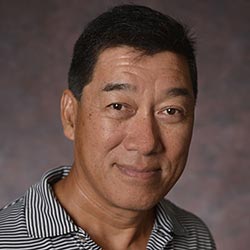 My research interests include the study of mechanisms that control programmed cell death and stress tolerance in plants, the regulation of global gene expression via chromatin organization, and more recently, the establishment and promotion of an aquatic agriculture platform with duckweed for sustainable biomass production.
Programmed Cell Death and Plant Stress Tolerance
Controlled cellular suicide is used by plants, much like in animals, to remove unwanted or damaged cells during development and disease, as well as during times of environmental stresses. My work over the past 20 years focus on studying two highly conserved types of proteins that control the activation of cellular suicide in plants, a protease family called metacaspases that is involved in regulating activation of plant cell death and a cell death repressor called BI-1 (Bax Inhibitor-1) that suppresses cell death in both plants and animals. Recent work with collaborators in the University of Sao Paulo has demonstrated that overexpression of plant BI-1 orthologs in sugarcane can improve drought tolerance, demonstrating that modulation of cell death can help create important traits for crops that have better resilience to severe environmental stresses.
Epigenetics and Chromatin Organization
Regulating the output from the genome without a change in DNA sequence (i.e. epigenetics) is intimately linked to dynamic changes in how chromatin is organized. My lab has carried out systematic studies to profile global histone modifications in the model plant Arabidopsis thaliana and to devise new strategies to combine and correlate multiple datasets in order to identify key combinations of genomic features and functional output. This bioinformatic strategy has enabled the identification of gene sets for development functions that may be primed for drought activation in the moss Physcomitrella patens. More recently, in collaboration with other researchers, we are focusing our work on demonstrating the role of epigenetic control in development of specialized cell types on the surface of plant leaves called guard cells. These special cells made up the stomates on leaf surfaces and are key to regulating gas exchange to facilitate carbon fixation and temperature control. Using the technique called INTACT, we are currently isolating chromatin from various progenitor stages of these specialized cells to characterize their chromatin marks and pinpoint the regions in the chromatin that are systematically modified during the genesis of the mature guard cells. The results from this work may provide a clear example of how predictable changes in chromatin organization may underlie a specific developmental pathway.
Establishing Duckweed as a Novel Microcrop
Duckweed, a family of aquatic moncots that are related to grasses, is the fastest growing flowering plants in the world. Some duckweed strains have been shown to have have protein and/or starch and can be used as animal feed or to produce biofuel. My lab has been working over the past decade to help realize the great potential of duckweed. Recently, I have led a team of researchers to complete a high fidelity reference genome for the Greater Duckweed Spirodela ployrhiza using a combination of cutting-edge DNA sequencing technologies. His lab has also successfully demonstrated a novel approach to generate high-resolution genotyping tools that can distinguish closely related duckweed strains. My work in this area emphasizes the use of evolutionary relationships and genomics to identify candidate genes for critical metabolic switches in metabolism as well as creating new technologies for duckweed related applications. Recent innovations include the conception and construction of a scalable duckweed production module (DPM) that should facilitate domestication of this aquatic plant family as a novel crop.